We are, of course, at the mercy both of the coronavirus and the government restrictions put in place to control it. Our future planning is naturally subject to factors outside our control. We have to plan on the basis that we will all return to something like 'normal life' at some point. We had been pleased to see that indoor performances were allowed to go ahead, but this has now been cancelled by the Secretary of State for Digital, Culture, Media and Sport.
Currently, and depending entirely on future government restrictions and the availability of the Unicorn Theatre, we plan to stage Shakespeare's Love's Labour's Lost in March - hopefully, we may be back closer to normal by then. Details HERE... or click on the image above.
After six months of only seeing each other on Zoom, it's been fun to be able to rehearse face to face - well, mask to mask, of course ---
Our venue has confirmed that our activity continues to be a 'permitted activity' within the current government rules. This means our, carefully-managed, face to face rehearsals may continue although - as you'll see below - we've broken the play into smaller chunks so fewer people attend each night.
It's very difficult to plan for anything in this imposed culture of uncertainty, but nevertheless we do keep planning!

Keeping our distance - and with smaller numbers.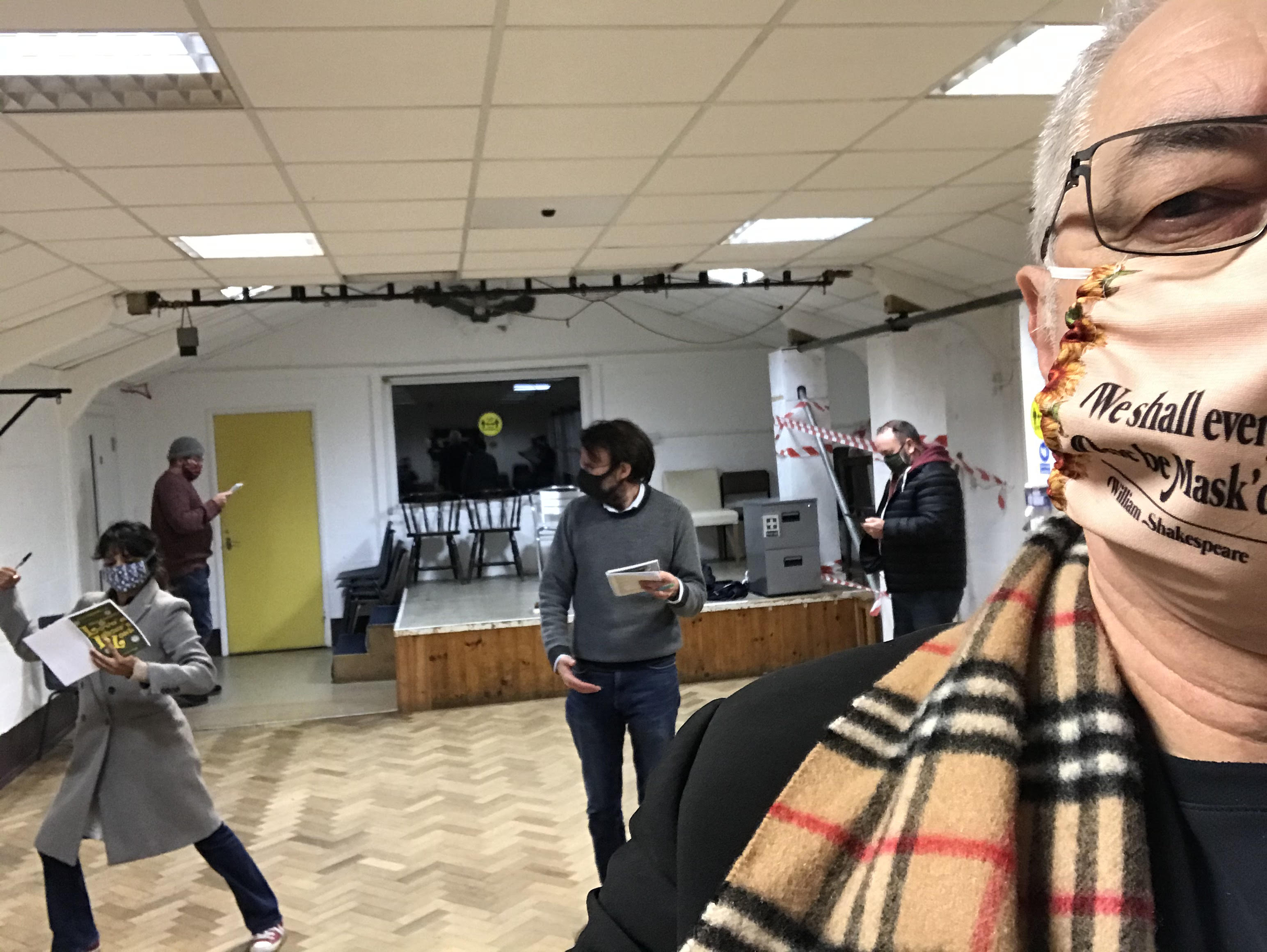 ---
DRAMA IN LOCKDOWN
The Covid-19 lockdown has meant that the Studio Theatre Club has had to meet, and rehearse, online -- and also that we haven't been able to perform for you at the Unicorn Theatre in Abingdon.
So - while we, and you, are all obliged to stay at home, we thought we'd record some well-known Shakespeare soliloquies so we can still virtually meet up :-).
See what we've been getting up to in lockdown! You can find our mini videos HERE.

---
We hope all our followers are keeping safe during this crisis.
As a Club, we're all staying in touch through social media and with online video pub nights, play readings and rehearsal evenings.
Like many other organisations and clubs, we haven't been able to have our regular face-to-face meetings for many months.
From next week, though, we will be holding face to face rehearsals with carefully-planned social distancing measures.
And - we are still planning for future plays. If you want to be kept in the loop, please do EMAIL us, so we can let you know what's happening and how you can get involved.
We take social distancing VERY seriously!
---
The Studio Theatre Club is a very friendly amateur drama club based in Oxford. We enjoy staging a wide range of plays and we want our audiences to see the best shows possible.
We also meet socially outside rehearsals - for informal parties, meals, pub nights, girls' nights, lads' nights, sitting around the TV watching DVDs, cinema & theatre visits and other stuff.
We used to rehearse, pre-Covid, on Monday and Thursday evenings (19:30 til 21:00ish) at the Blackbird Leys Community Centre.
From 7 September, we will be returning to face to face rehearsals for our current show (Love's Labour's Lost). The distancing restrictions set by our venue mean that we are still not fully 'open for business' and, sadly, this means we can't invite people to just drop in to see what they think of us.
Once a play's been cast and is well underway, there may be fewer opportunities to be actively involved in the show, but you'll still be very welcome to come along and socialise(even if, for the time being, that can only be on Zoom!). There's always another play in planning, and you'll have the chance to hear more about it that way. Feel free to email us to check on current planning.
If you do decide to give us a go, don't forget we'll be asking you to pay your Club Subscription - £30. This helps towards our overheads, including rehearsal/meeting space, insurance - and this web site.
---